Nicole Cooke 'sceptical' of Team Sky and Sir Bradley Wiggins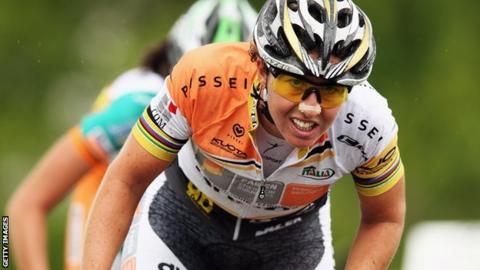 Nicole Cooke won the Olympic road race in Beijing in 2008
Ex-Olympic champion Nicole Cooke says she is "sceptical" of Team Sky's drug-free credentials and Sir Bradley Wiggins' therapeutic use exemptions.
Wiggins was granted three TUEs to take anti-inflammatory drug triamcinolone before the 2011 and 2012 Tour de France and the 2013 Giro d'Italia.
"Taking TUEs just before major events raises questions for me," Cooke said.
Cooke also told MPs British Cycling is run "by men for men" and its attempts to stop doping are "ineffective".
Wiggins' TUEs were approved by British authorities and cycling's world governing body the UCI, and there is no suggestion either the 36-year-old or his former employers Team Sky have broken any rules.
Cooke, 33, made the claims in evidence submitted to a Culture, Media and Sport select committee on Tuesday.
The committee is examining doping in sport and Tuesday's session was held to discuss issues raised at a previous hearing involving British Cycling and Team Sky in December.
In a wide-ranging testimony, Cooke provided examples of sexism she had encountered in her 13-year career, stating British Cycling shows "discrimination and favouritism" because it is "answerable to itself".
The Welsh former world and Commonwealth cycling champion added that the fight against doping is "the wrong people fighting the wrong war, in the wrong way, with the wrong tools".
"While there is still a way to go, British Cycling is absolutely committed to resolving the historic gender imbalance in our sport," said the governing body in a statement.
British Cycling is the subject of an investigation by UK Anti-Doping into allegations of wrongdoing in the sport and is also awaiting the findings of an independent review into an alleged bullying culture.